5 rising startups in the education sector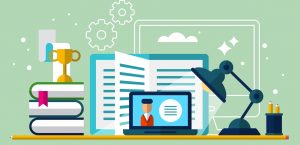 The rapid evolution of technology has created new methods of delivering education to students to the extent that some authors have even predicted the end of colleges as we know them.
Numerous entrepreneurs are now focusing their energies on hacking the education industry in a scalable way.
The use of technology in the education sector has been consistently growing. Some even claim it may be growing a little too fast.
Nevertheless, the eLearning space remains one of the hottest spaces in tech with a myriad of innovative tools ranging from software to mobile applications and online portals/platforms.
If building an eLearning startup is somewhere in your bucket list journal, here are 5 edtech startups that are developing innovative products and ideas that you should probably take note of.
1) Quipper
Quipper envisions a society where all students (even those living in rural areas) are given the opportunities to learn from the best tutors and access quality. This startup provides an online learning platform that supports teachers in class management at primary and secondary school levels.
This UK-born platform equips teachers with the ability to build lessons online, connect directly with students, delegate tasks and more.
2) BYJU's: The learning App
This application was designed with a vision to increase the pace of learning among the students by bringing interactive activities and engaging animated videos into the delivery of educational content.
The startup managed to raise $50 million from Sequoia Capital and The Chan Zuckerberg initiative (CZI) among other investors.
In September 2016, the app crossed the 5 million download mark.
3) Embibe
This online portal enables AIPMT, CET, JEE, BITSAT and AIIMS students to prepare for tests and is specially catered to engineering entrance examinations.
Receiving $4 million in funding, this startup focuses on analytics and content to get the most important information at the right time to students and claims to have more than 15,000 users.
4) Kahoot!
The top education app on the UK and US Apple app stores, users can create a fun learning game in just a few minutes and play them in groups with each player answer the questions on his/her own device (smartphone…etc) while the game is displayed on a shared screen.
Teachers can also create their own games and quizzes on the platform.
The app now has 50 million users every month.
5) Simplilearn: Get Certified, Get Ahead
Catered to working professionals who want to advance their careers or simply pick up a new skill, the platform has over 400 courses in big data, programming and more.
It is one of the world's leading certification training providers and has helped over 500,000 companies and professionals in more than 150 countries get.
The startup raised $15 million in Series C funding and rose to a funding total of $28 million.
Have an article to contribute to Union?
Email us
.