September, 2018
now browsing by month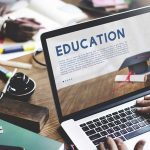 What is educational technology? According to your friendly dictionary it is simply "the study and ethical practice of facilitating learning and improving performance by creating, using, and managing appropriate technological processes and resources." But it means so much more. Educational technology is the future. It's how children and adults will be introduced to new information, information that we often take for granted, in a fast and connective way.
So how is it affecting the way people learn across the globe? Here are several effects educational technology is having on the way your kid may grow up in his/her school system:
Education will look like life more outside the classroom than inside the classroom. With the addition of educational technology in school curricula and educational systems, the classroom is beginning to change. It is no longer just a series of desks and chalkboards. Instead it is desks, tablet, computers, cords. Educational technology is bringing the life we live outside the classroom–a series of glances at our smartphones–to connect kids with new ideas, subjects, etc. While many classrooms, many schools and universities still demand students purchase textbooks, more and more books are being read via tablet instead of in physical form. The instruction itself changes with the ability to utilize the internet and its myriad of possibilities. The classroom is going to rely on the technology to connect students to the information that the internet offers as the years pass. One might even see the need for vpn connections in countries such a China where access is limited, such as bestvpnrating to gain complete access to all the information out there relevant to a classroom. In every corner of the world the possibilities are endless.
Grading. Educational technology is going to surpass the days of standardized testing that required number 2 pencil grading. More and more testing and grading will be done using automatic online survey tools which allow teachers to pass on the manual grading. Open text answers will still need a human eye, but the closed-ended question and answer methodology will rely on Artificial Intelligence more and more.
More teacher time. This reliance on AI to do more mundane tasks will actually allow teachers to have more one-on-one time with students. A lot of the busywork of teaching will decrease over time and there will be more energy and time available from teachers to directly address students' needs. This is the exciting part of Educational Technology. Although some are apprehensive of the dehumanization of the classroom due to the addition of technology, it may produce the opposite effect: Teachers and students will be able to connect more than less.
The truth is educational technology is a tricky subject because education is centered around economy. And the economy is definitely evolving to include more Artificial Intelligence itself. There's a statistic going around right now that says 85% of jobs that will exist in 2030 haven't even been invented yet. Educational technology is going to have to address this gap in knowledge and evolve as the economy evolves so that students who graduate are graduating with skills to make a living. Higher education especially will look different since the need for it may change entirely.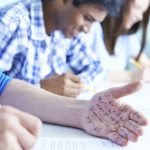 An unfortunate reality of school testing is that there have always been students that take it upon themselves to cheat on their examinations. From using invisible ink (not as smart an idea as one may think) to writing answers into the inseams of their clothing, educators have seen it all. As the education industry has evolved, so have the cheating attempts and methods. Whether unfair or not, students have found themselves on the receiving end of the disciplinary consequences that come with being found guilty of cheating.
With online education becoming more popular by the day, there has been a renewed sense of panic among educators at all the new innovative ways that students can cheat on their online examinations. Luckily, technology has also made it easier to monitor students as they sit their examinations, making it easier than perhaps expected to see what they are doing. Education technology has proven to be revolutionary for the education industry – for both educators and students.
Google-proof your questions
This may sound like an obvious one, but so often teachers and professors alike write their questions, double check them for errors, and simply post them to the test and let the students go from there.
What often happens is that educators that adhere to this method find, on the first page of Google, a question that is like their own or nearly the exact same one. The obvious drawback to this is that if they can Google their question and find the answer in a matter of seconds, so can their students. Google-proofing questions is a fantastic way to combat online exam cheating.
Time limitations & order randomisation
There is a misconception that it is easier to cheat on online exams than it is in class. While students sometimes do feel it is easier to cheat online, the reality is that if you set a time limitation for the exam, they have less time to mess around trying to find the right answers online, making it in fact more difficult to cheat and have it pay off.
Additionally, it is hard for students to cheat online when the questions are entirely randomised, making them different to the content they learned in class. For example, the questions that directly correlate to the content in weeks 1-12, should not be set in chronological order of when the students learnt the content. Complete randomisation requires forethought and critical thinking on the students' part.
Proctoring services
One of the most brilliant combatants for online exam cheating among students is the introduction of proctoring services. New technologies have been emerging and gaining traction over the last few years, making them the perfect anti-cheating processes to use in the battle against online exam cheating.
In short, proctoring services essentially function by tracking mouse clicks and keystrokes of students, as well as screen sharing and webcam surveillance during examination times. Having a camera watch you, and having software tracking your movements online, not only is effective in its nature but it instils a sense of responsibility among students, driving them to be more honest even when they feel tempted to cheat.