6 ways to get on the first page of Google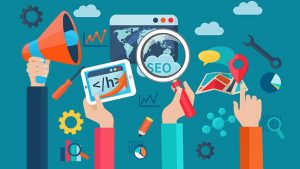 When you're at work or at home, there's a high chance that you're going to use Google. You may be using Google to find a plumber for your leaky bathroom sink or see where the best sushi is in town. When you're on Google, you're looking for the top results which means you're not scrolling past page one, unless, you're desperate. So, getting your company on the first page of Google is extremely important and impactful for success. But, how do you get your business there? Well, here's how.
Know the Basics
Before you do anything, you need to know the basics of how online marketing and Google search functions. By knowing the basics, you won't waste time performing outdated tasks or being overcharged by marketing companies that recognize your lack of knowledge. Education is the key to success.
Use SEO
Search Engine Optimization is the method of attracting online attention and visibility through organic means. In essence, the unpaid search results – the paid search results typically have "sponsored" or "paid advertisement" written below them. But you can naturally drive traffic towards your site just by using the right keywords. Certain keywords will push your content, allowing it to be shown in the top results. For additional help, seek a digital marketing agency.
Meet the Google Standards
Google has standards which your website must fulfil prior to appearing as a #1 website in the search results. Google will flag any errors they deem needed fixed and you're going to want to fix them, for example, broken links. If you don't meet the standards, they'll penalize all your pages until you fix them. So, take some time out of your day and make sure your website is fully functioning.
Content is everything
You may invest some top dollars in the look and appeal of your site but at the end of the day, it doesn't really matter what your site looks like. What truly matters is the content as that will drive viewers to your site. The Google search results are designed to provide users with the most relevant material on the web. If your content isn't providing value to the viewers, your material won't make it to #1.
Focus on links
Links play an important role when it comes to Google's ranking system. The way Google works is that it pays attention to the hyperlinks in content to figure out what keywords are tied to the link being used. Though this doesn't mean your entire article should be made of links, if you use too many they'll deem it as suspicious activity and your website can be taken from Google.
Google loves mobile-friendly
If you want to come up with a #1 site then you need to show Google that you're updated and relevant to the current technology. In other words, you need to make your web design mobile-friendly. Many users read material while on their way to work, on the bus or on their couch. So, if you're not catering to smartphones, well, Google isn't going to favor you.